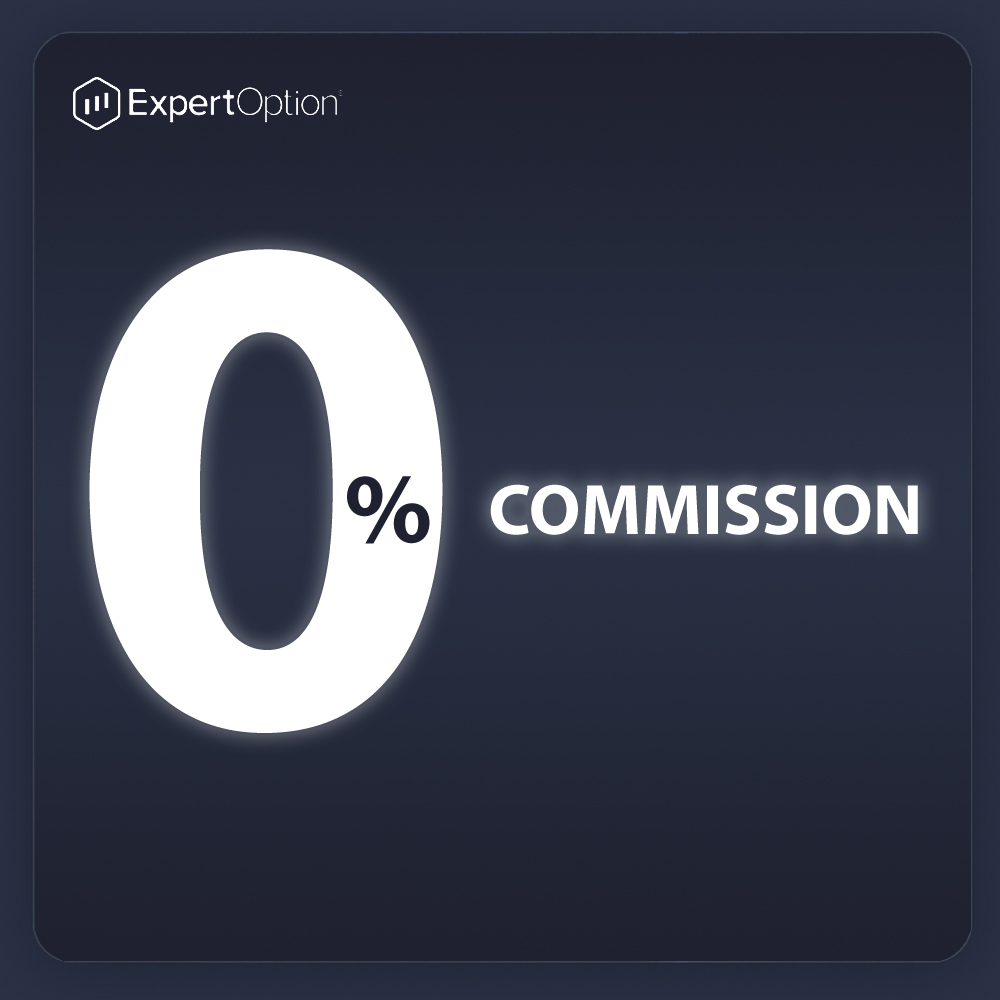 ExpertOption Withdrawal
Each day we receive requests asking us to explain the withdrawal process at ExpertOption. Every person asks for a different method to be the example, this is why it is first and foremost important to remember that some withdrawal, as well as deposit methods you see, will be specifically available to those in your geographical location / region, and not to others! Makes sense right? Of course some methods such as cryptocurrency are universal, likewise Visa and Mastercard — if you have them you can use them, but of course there are conditions, which we will outline throughout this article in addition to anything else you need to know about withdrawing your money from ExpertOption.
The process itself is nowhere near as complex as some might have you believe. Often, any confusion or difficulties experienced can be attributed to a lack of awareness on how the process of withdrawal actually works, a significant part of that is the verification process. So where better to begin? Throughout this review we'll take an in-depth look at how to verify your ExpertOption account, before describing how to place a withdrawal request and outlining any possible pitfalls that could result from a lack of understanding.
Verification
Why is verification necessary? What's the purpose? These are the questions we hear all too often. For experienced traders, the idea of verification is nothing new. However for newcomers it can seem like an overly intrusive step. Understanding why verification is essential can help to ease any concerns. Regulated brokers such as ExpertOption are required by the policies of their regulators to comply with all applicable laws, and regulations which aim to prevent money laundering or other criminal activities. The company must therefore perform "Know your customer" (KYC), and/or "Anti-money laundering/Counter-terrorist Financing" (AML/CTF) checks.
It is important to note that the transfer of funds between a client and a broker often occurs with the assistance of intermediaries, such as; banks, payment services and systems. Many of these intermediaries are highly accountable to financial regulators, requiring verifiable information is provided in relation to their clients identities.
Below we'll outline the processes required by ExpertOption to complete verification:
1. From the "Profile" menu, navigate to the "Documents" section or click the "Verify info" button from the profile menu;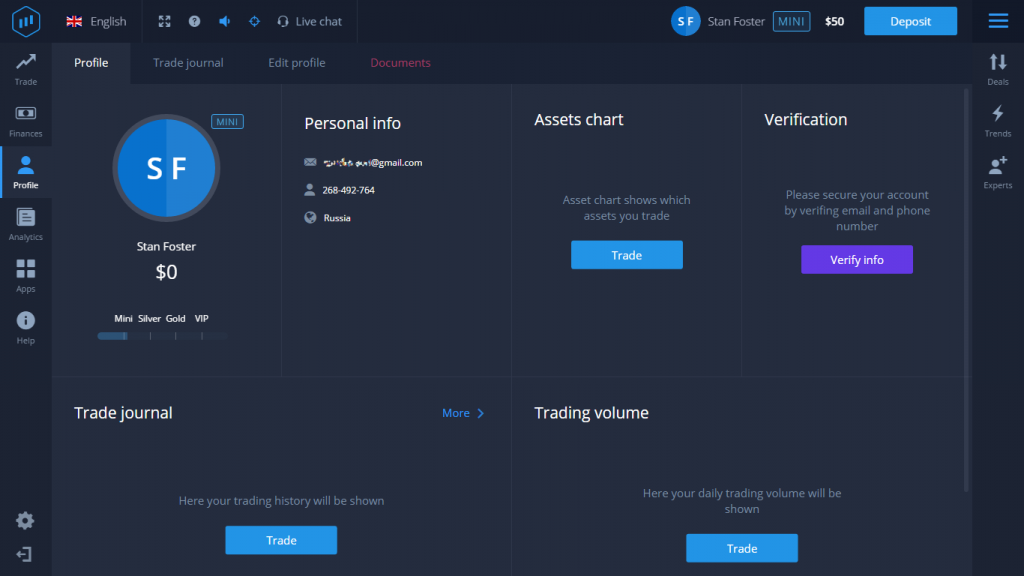 2. Once at the "Documents" page, you'll see the option to upload your ID (national passport/national identity card/driver's license) and any other information it will be necessary to provide — all of which depends on the method of deposit used. It is recommended that a colour photo of any document is uploaded, ensuring that all critical information is clearly visible, including; full name, date of birth, and the issuer of the document: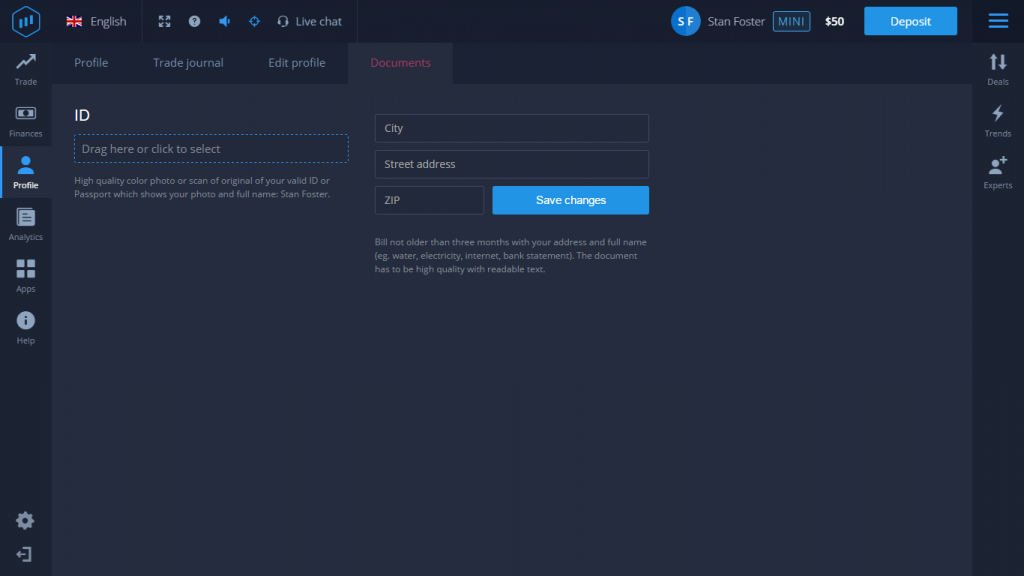 3. After the file has been successfully uploaded, click the "Send" button to proceed;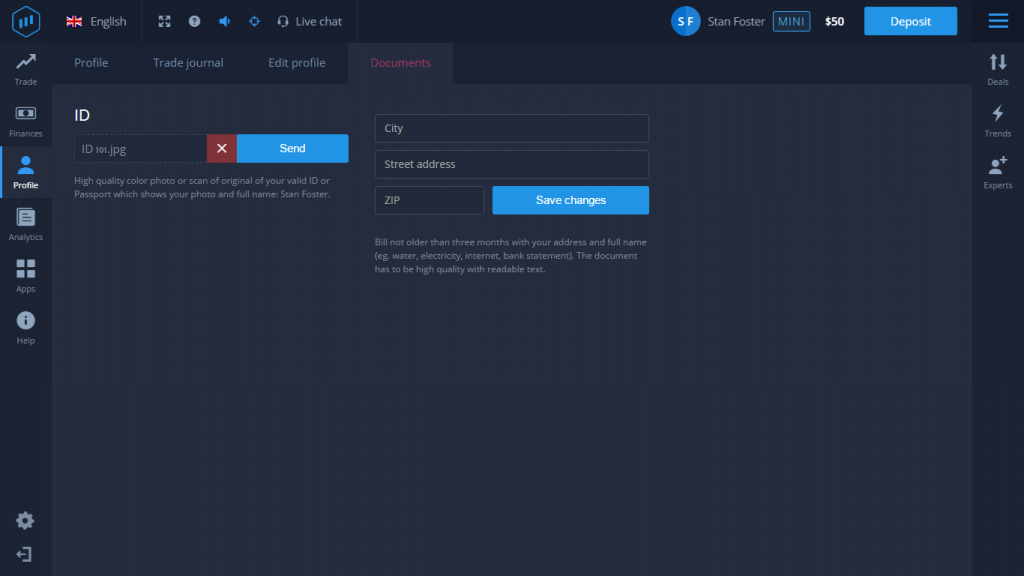 4. The next step is to enter your address information in the designated fields, once entered click the "Save changes" button to store your details;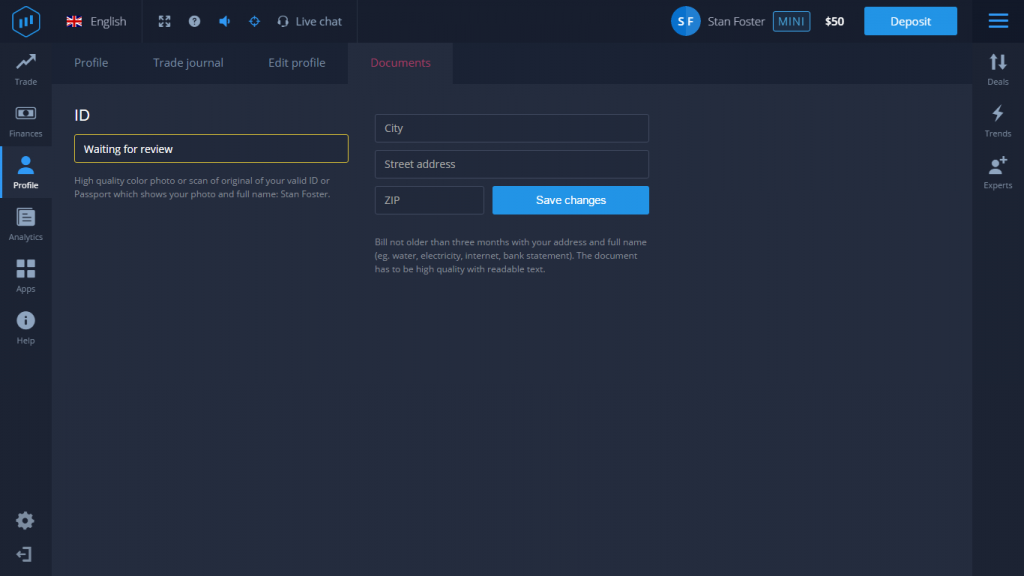 Once your address has been saved, a new field will appear in which a document confirming your address must be uploaded. This can be any of the following selection:
A colour photo of a utility bill containing both your full name and address.
In instances where no such document can be obtained, the use of the below can be accepted:
A colour photo of a bank statement with both your full name and address.
A colour photo of a tax statement with both full name and address.
Assuming it has not been used for ID verification, a colour photo of a driving license containing both your full name and address.
Effectively any document considered an official proof of address presented by an authorised legal authority can be submitted. Please bear in mind that documents older than 6 months will not be accepted.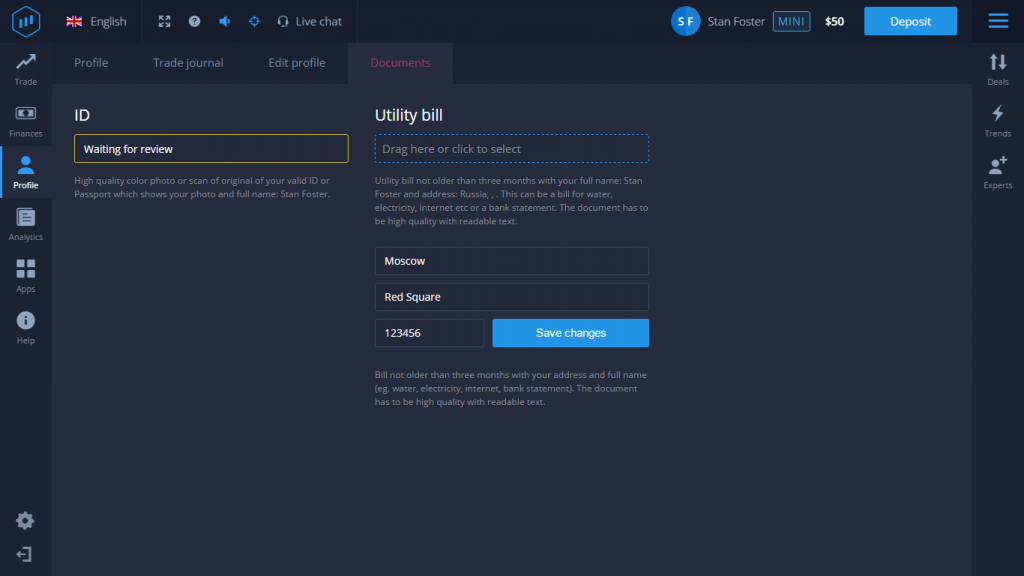 6. Similarly to the ID upload, once your address confirmation document has been uploaded click the "Send" button to proceed;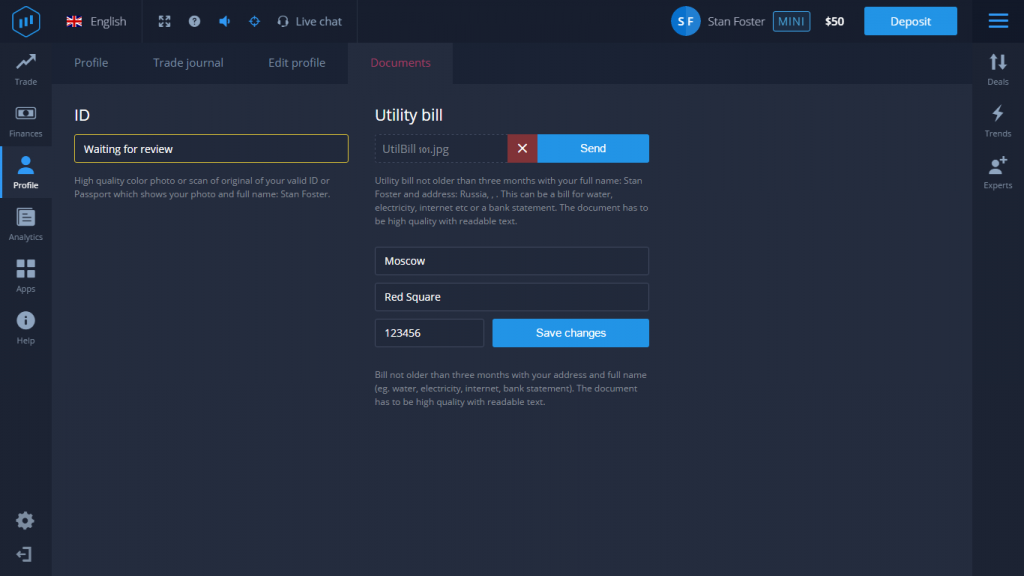 7. Once submitted, the status of the documents will be updated to reflect how far along the review process the compliance department are. On average the verification process can be expected to take anywhere between 24-48 hours. "Waiting for review" is the first stage of the process, which indicates the file was successfully uploaded to the server;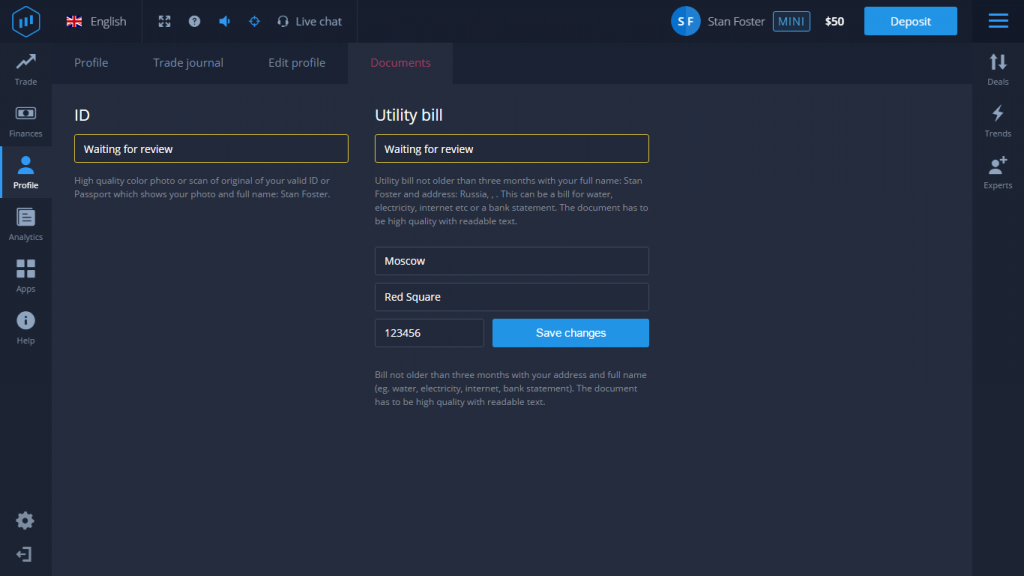 8. If any issues arise during the review with either the format or quality of the documents provided — you will be notified of the rejection by the verification department, with a full explanation provided by email. Likewise, once approved the status will change to "Approved" and a notification will be sent by email to notify you;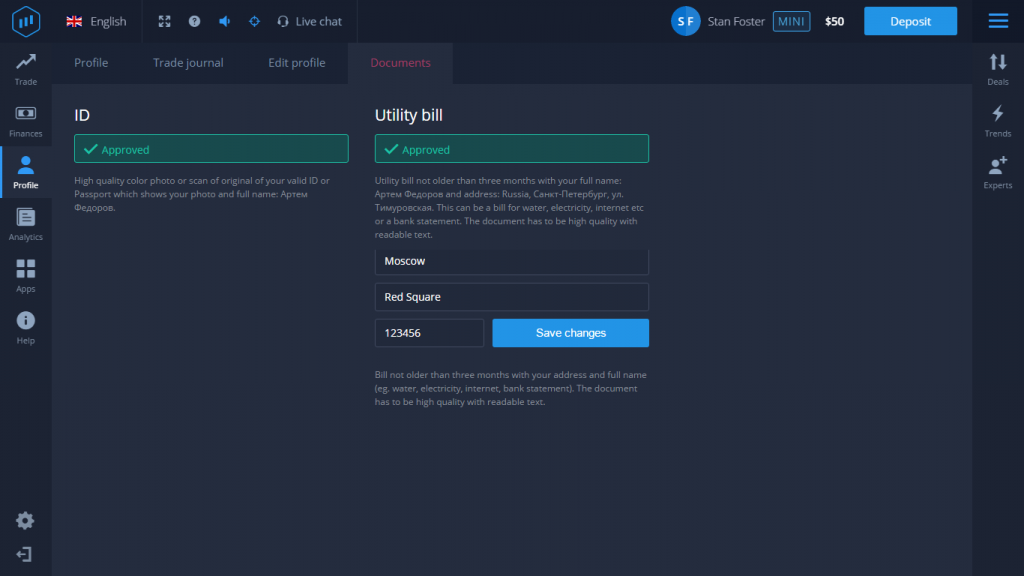 If a deposit was made using a Debit or Credit card an additional level of verification will be needed, this is to ensure the cardholder is in fact the person making the transaction. You will be asked to provide a colour photo of the front side of the card used, it is only necessary to provide the front side of the card, and only the first and last four digits must be visible, the middle numbers can be hidden.
We recommend fulfilling these requirements:
Name and card number are clearly legible (not worn or tampered with)
Photo must contain the full document / card, all four corners must be visible.
Any queries or issues relating to documents should be addressed directly to our compliance department, who can be contacted using the email [email protected]
Withdrawal of Funds
Only after verification has been completed can you request funds be withdrawn from your account (The minimum request being $10), the process can be initiated by following these steps:
1. Select the "Withdrawal" tab from the "Finances" menu and click the blue "withdrawal" button;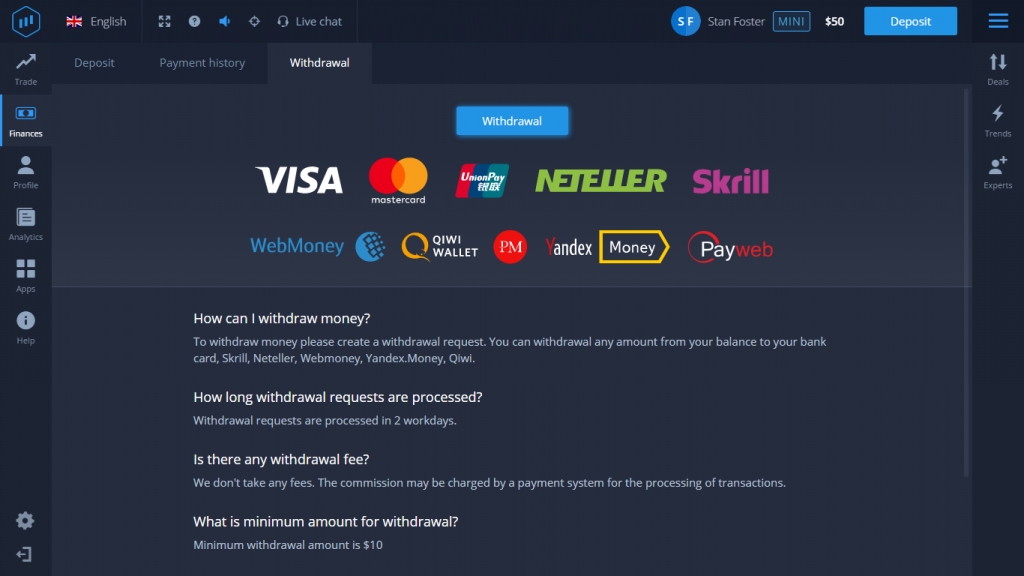 2. Next, a new page will appear with options to select different methods of withdrawal, and to fill out the relevant account information;
3. In the example provided below we have selected the e-wallet Skrill, all that is required is to enter the amount you wish to withdraw, followed by your account details, in this instance your email used for Skrill;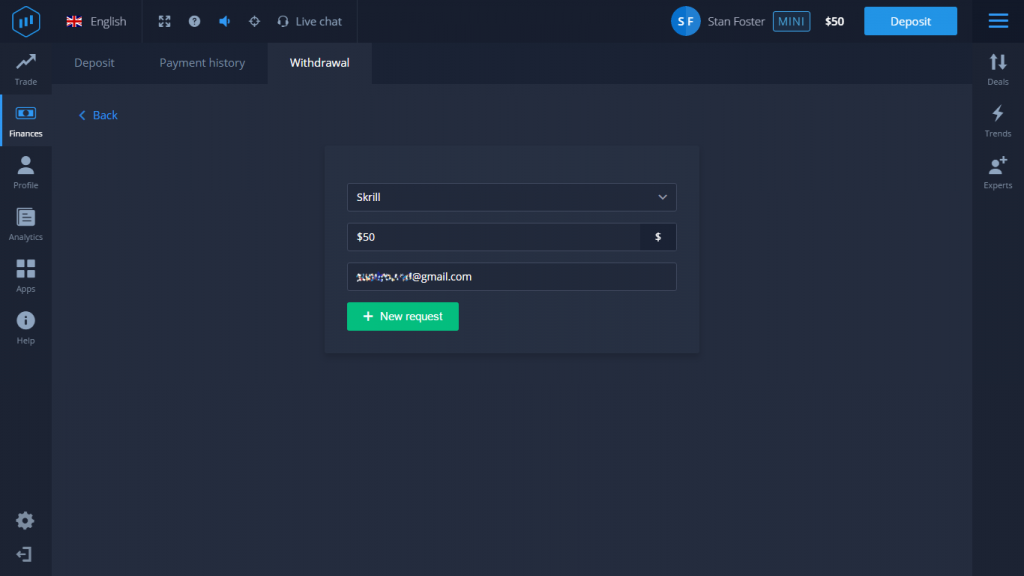 4. Following the creation of a withdrawal request its progress can be tracked through the "Payment history" tab. Once processed, the status will update to "Paid" and the amount will be sent to your selected withdrawal method.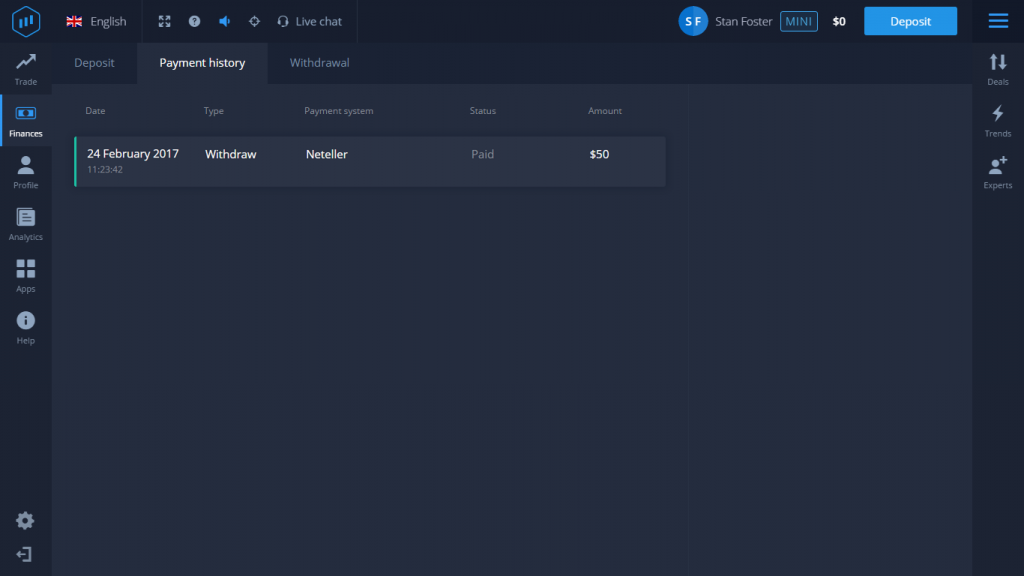 In the above example we can see a withdrawal request of $50 was successfully paid to a clients Neteller e-Wallet.
It is vitally important to remember additional conditions can apply to withdrawals made by Credit or Debit card, these are:
If a deposit was made by card, only the amount deposited can be withdrawn back, for example; if $5000 is deposited with a Visa / Mastercard and $3000 profit is earned trading. The client must request $5000 is withdrawn to the same card used for deposit, whilst the profit of $3000 must be withdrawn to another method, such as e-wallet, cryptocurrency or a variety of others.
Payment Methods
The following payment systems are available to withdraw funds:
Bank card (Visa, MasterCard, Maestro);
Cryptocurrency
Mobile Payments
Union Pay
Skrill
Neteller
Fasapay
Perfect Money
Qiwi
Yandex Money
WebMoney
ePayments
More and more methods are being introduced to increase convenience for traders in all regions.
It should be noted that ExpertOption does not charge any commission for withdrawals, although commission may be charged by the payment method as a processing fee on the transaction.
We hope this overview of the ExpertOption withdrawal process has answered your most frequently asked questions and cleared any doubts or concerns relating to verification and the withdrawal of profits.
Leave a Reply
* Your email address will not be published. Required fields are marked