ExpertOption Review
In recent years ExpertOption has built a reputation as one of the markets leading brokerages, developing a loyal following of traders from across the globe. The company aims to continually improve the ExpertOption platform with cutting-edge features, and services that benefit all traders.
ExpertOption: What you need to know
Established in 2014 ExpertOption has rapidly become the broker of choice for both newbies and veteran traders alike. It's well known that trading involves a high degree of risk, but this is most prevalent when choosing the best broker for your trading needs. In many instances it's simply a matter of convenience, however brokers such as ExpertOption deliver a service which goes far beyond expectations..
The truest test of any broker can only be first-hand experience, understanding the nuances of a particular platform and how to get the most from the time and money you invest. During the following review we will provide an in-depth analysis of the ExpertOption broker, highlighting both the pros and cons whilst attempting to answer some of the questions we're most frequently asked, which include:
How do I open an account with ExpertOption?
How to make a deposit or a withdrawal?
What are the platforms key features?
What are strike rates?
Is it true I can cancel a deal?
How to copy other traders deals?
Is the platform regulated?
Can I really deposit just $10?
By the end of this review, we would have provided you with sufficient information to make an educated decision about the ExpertOption platform and how it could benefit you.
Pros & Cons
Like any broker ExpertOption has both advantages and disadvantages, fortunately the pros far outweigh the cons, here are just some of the main points most relevant to traders when assessing the platform:
+ Free $10,000 Demo:
Undoubtedly this is a star feature, in just a single click users can access the free demo account at any time, unlike other brokers no registration is required. This is beneficial to traders of all experience levels, and is by far and away one of the most useful for learning and implementing new trading strategies.
+ Low Minimum Deposit:
ExpertOption understands its users come from all walks of life, and that not all are able to make significant financial commitments — by providing a minimum deposit of just $10, and a minimum deal amount of only $1 the company has endeavoured to remove as many obstacles which may prevent of hinder traders from participating.
+ Social Trading:
Social Trading is a popular way for online traders to connect with other users, and trade in real-time — allowing them to view each other's trades, and even follow strategies. It's just one of numerous features from ExpertOption, which helps to make trading more interactive, and less of a solitary experience. Social Trading is a tool that effectively utilised can make all the difference to a traders overall performance.
+ Instant Withdrawal:
ExpertOption boasts some of the fastest withdrawal times for any broker, the minimum withdrawal request is only $10, and dependent upon your preferred method can be instant, such is the case with Cryptocurrencies or Electronic Wallets, including; Skrill, WebMoney, Neteller, E-Payments and more.
+ Access to Extensive Educational Materials:
Trading for many is a learning process which can only be mastered through practice and knowledge, thankfully ExpertOption provide in-depth educational materials from the outset — including everything from written materials explaining strategies, indicators and chart types, to full video tutorials with topics such as 'how to trade' and many more.
+ Customisable Strike Rates:
A really useful features, allowing traders to take full control over the trading experience with the ability to adjust the level of risk and reward for each individual deal.
+ 24/7 Customer Support:
A truly invaluable service, traders can connect with ExpertOption 24/7 through live chat, telephone or by email. The support team are knowledgeable, and take great pride in providing the highest levels of customer service.
+ User Friendly Interface:
The platforms UI is both eye catching and responsive, the design scheme makes navigation between features a breeze.
+ Frequent Market Updates:
ExpertOption keeps traders up-to-date with all the latest market news and developments, which is crucial when identifying key fundamentals which could impact market prices.
— Does not provide services to US. Citizens:
One of the only identifiable disadvantages, ExpertOption do not provide financial services to citizens of the USA.
ExpertOption: Key Statistics
Since inception in 2014, ExpertOption has grown exponentially, and can now boast to have more than 25 million registered from 150 countries, providing the platform in 14 languages. Significantly more than 20 payments systems have been integrated, which allows for easy and convenient deposits from across the world.
Here are some key statistics which caught our eye:
35,000 daily users.
$15.6 million withdrawn in September 2019.
Measurable increases in rate of return over a set period.
More than 29 million deals opened in a month on average.
The Trading Platform
The ExpertOption app can be downloaded for your iOS or Android devices, and is also available through browsers, or even the desktop applications for Mac & Windows. This provides traders with additional convenience as accounts can be accessed through a variety of means.
Once you're in your account for the first time, an introduction video will explain how to trade on the ExpertOption platform with a brief tutorial. This will help to guide users through the initial steps which can be daunting, details include; how to select an asset, a closing time, setting up the chart and how to use strike rates.
Most of the platforms key features can be accessed from the main page allowing traders to fully customize their experience from the start, additional features are found in the tab on the left of the platform, which include; profile info, educational materials, analytics, the trade journal as well as the deposit and withdraw pages.
On the right of the chart tabs depicting data for the current trading session can be viewed, specifically data related to market sentiment and performance of other traders, this section also allows traders to view their open deals and to 'cancel' anytime if necessary.
Assets
ExpertOption gives traders the opportunity to work with more than 100 of the most in-demand assets, ranging from well known stocks, such as Google or Apple, to currency pairs, cryptocurrencies, and even popular commodities including Gold and Oil.
How to Trade
Initially, it is recommended that users study the educational materials and make use of the demo before they make any sort of commitment. The first step for any trader should be to determine the asset they would like to use, before deciding the time period of the deal, which ranges from 1-5 minutes. Once this has been done and assuming the chart is set up in the desired way — then it is time to choose an investment amount, and predict how the price will change over a set time period (Up or Down).
Before deciding to make your prediction, ExpertOption provides strike rates, which gives traders the ability to manage the level of risk — higher risk means higher rewards, whilst lowering the risk means smaller earnings but less risk of loss.
Account Types
ExpertOption provide six account types, each with their own unique benefits — the minimum deposit ranges from a minimum of $10 for a Micro account, to $5000 for Platinum, with the most obvious benefits being increased profit percentages, and priority withdrawal for the higher status account types. However, most traders choose to begin with Silver which provides a perfect balance, it's also important to remember that each deposit counts towards increasing the account type.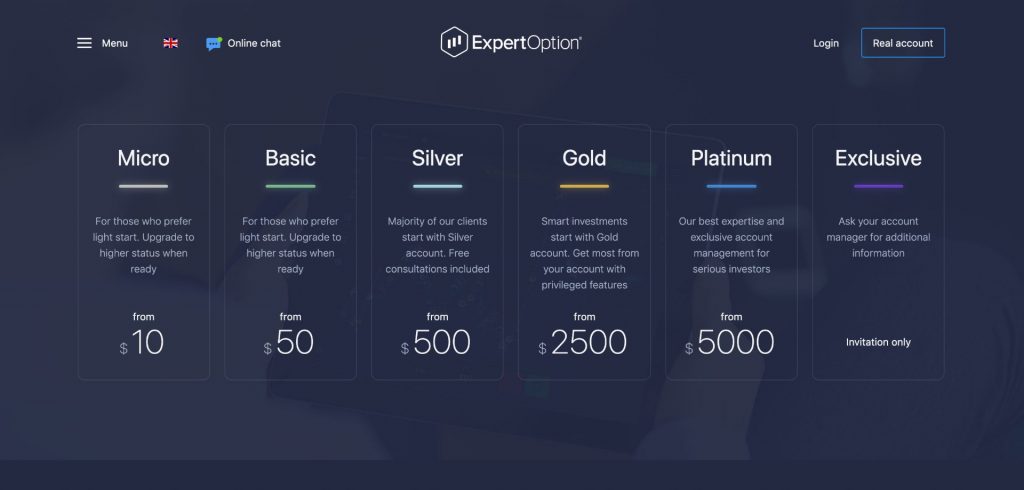 Opening an Account
From the ExpertOption homepage there are a number of options for traders to begin their trading careers, the demo account can be accessed instantly in a single-click — whilst those who wish to go straight to trading can click the 'Real Account' button in the top right to begin opening their account.
Conveniently users are able to login using their existing Facebook or Google+ accounts, otherwise simply enter an email and create a password before agreeing to the platform terms to proceed.
We noticed that ExpertOption has particularly stringent security protocols in place, which increases peace of mind when trading. There is nothing worse than worrying about your funds and investments through no fault of your own.
Deposit and Withdrawal
Once you've opened a real account you'll be prompted to deposit if you wish to trade, this can be done via the blue deposit button at the top of your screen or from the finances tab on the left of the platform, this section also contains the withdrawal page.
The next step of the deposit process will present traders with a new page where they must select the deposit amount and desired payment method.
The options available are dependent upon which geographic region each trader is located, whichever method is selected users must agree to the platforms terms and conditions before proceeding to enter their payment details.
Deposits can be made using well known credit/debit cards, numerous e-wallets, wire transfer and even cryptocurrencies like Bitcoin — the method chosen has an impact on the verification and withdrawal process, which is important to remember.
Withdrawals on ExpertOption are streamlined to make the process as fast as possible, traders are required to withdraw the amount deposited back to the same method. On average requests are processed within 2 full business days, however dependent upon withdrawal method and account type can be instant.
Having engaged extensively with ExpertOption traders on social media and forums it appears that many are benefitting regularly, particularly satisfied are those who choose the fastest methods of withdrawal like e-wallets and cryptocurrency.
Final Thoughts
Is ExpertOption the broker for you?
The short answer is yes. If you're searching for a reliable trading platform packed full of features then look no further. The rapid development of the company can only be described as astonishing, as they continue to innovate and improve the platform, be it through the introduction of cryptocurrencies, more indicators, smaller minimum deposits or even instant withdrawal feature — ExpertOption are most definitely pushing the boundaries to give users the fastest and most reliable trading experience on the market.
Leave a Reply
* Your email address will not be published. Required fields are marked