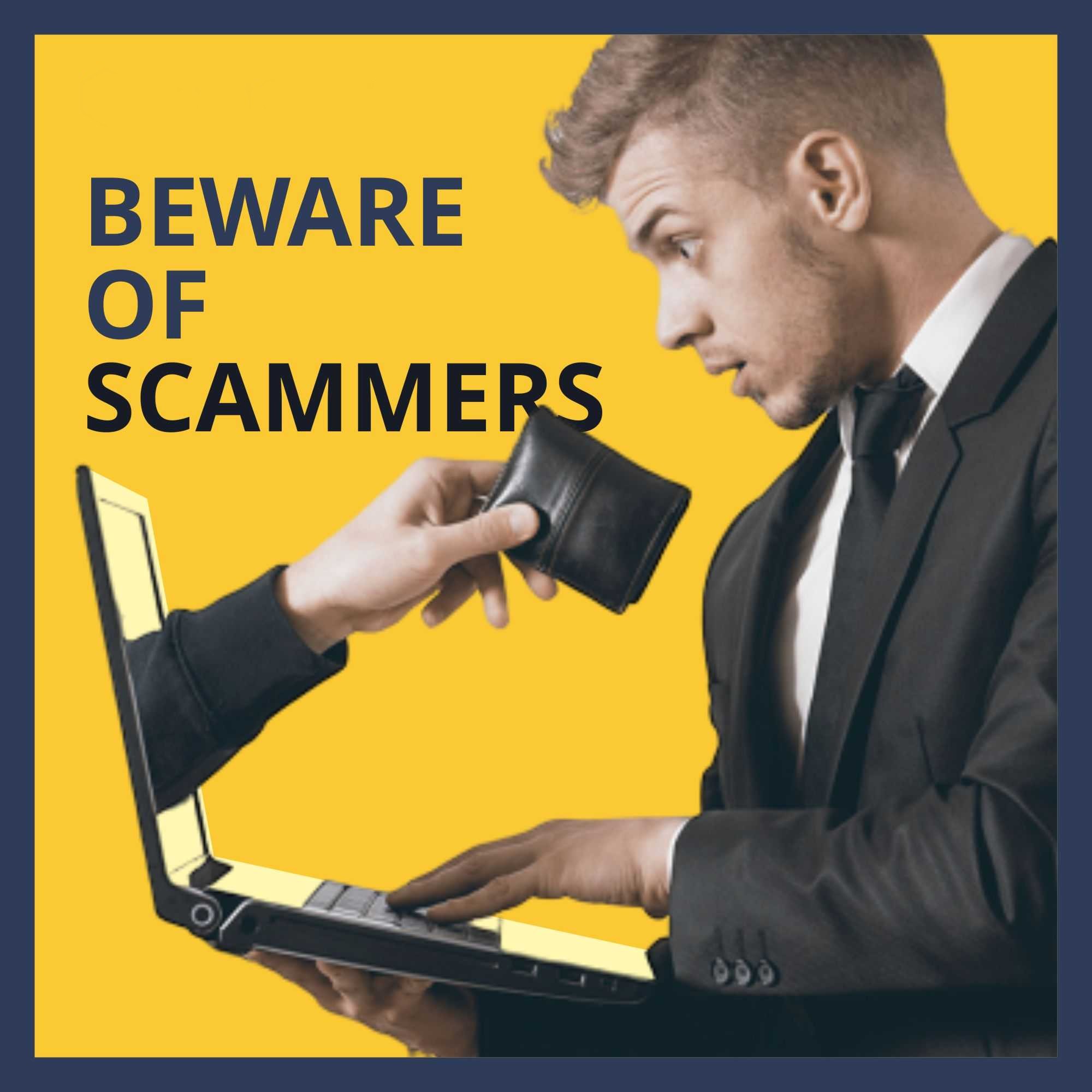 Is ExpertOption a Scam?
Addressing ExpertOption Scam Accusations
In many ways brokerages like ExpertOption can become a victim of their own success very easily. Despite the fact that positive reviews far outnumber the negative, in addition to the excellent ratings on both Google Play and the App Store, there will always be those who claim this type of business or company are a scam. Such accusations are of course serious, meriting further investigation.
The suggestion that a company could be a scam or fraudulent is certainly alarming, taking large sums of money from customers, and not honouring commitments to payout profits is simply embezzlement.
So could ExpertOption be such a company? We'll outline our findings in the following analysis.
Regulation
First, let's check the regulatory aspects. The company has obtained the following:
A Vanuatu Financial Services Commission (VFSC) license No.15014
What does this tell us about the legitimacy of the company? This documentation is proof that the company is compliant with the requirements of international law, and has undergone annual financial inspections, filing regular operational reports. VFSC licensing is certification that ExpertOption is in compliance with FATF standards and regulations. Vanuatu was likely the choice of registration due to the simplicity of the taxation system. Registrations made in this jurisdiction relieve clients of unfair tax burdens, the VFSC can be relied upon in the event of a dispute.
What is often claimed
Having analysed a whole myriad of reviews here are some of the most common complaints we came across:
Verification is too difficult
Withdrawal takes too long
Account was blocked
Profits are declining
Let's take a closer look at the verification process.
Firstly, the verification process is a key for any broker in abiding by the policies of financial regulators. It is a necessary obligation which must be carried out in order to comply with Anti Money Laundering (AML), and Know Your Customer (KYC) procedures which are in place to combat financial crime. The process at ExpertOption is one of the easiest and fastest, and must be completed in order to withdraw funds.

Some methods of deposit are far simpler to verify than others, for example:
1 — If you were to deposit by Cryptocurrency (Bitcoin, Ethereum) or e-wallet (Skrill, WebMoney, Neteller, ePayments) It will only be necessary for you to provide a photo of your official government issued Passport / ID card or even driving license.
2 — Deposits made by credit or debit card require a couple of additional steps, including; colour photos of your ID document, the card used for deposit and a utility bill as proof of address.
Such documents are readily available to most people over the age of 18, however any queries should be directed to the customer support team, who we found to be most helpful in assisting us. The process itself is accomplished through the profile section of your ExpertOption account, having correctly filled out your personal information (address, name and D.O.B) and ensuring a deposit was made, the documents tab will become visible.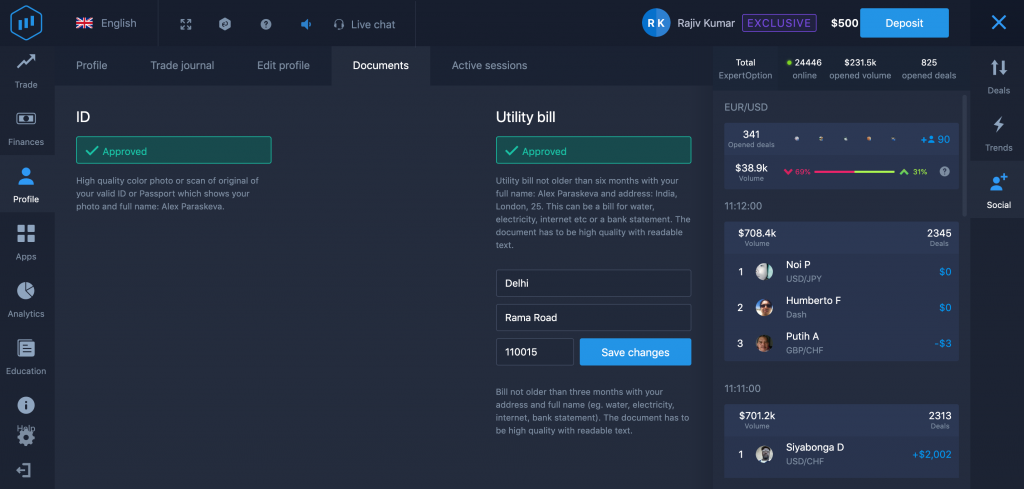 Withdrawals take too long
In almost all instances we found, this complaint was specifically related to card withdrawals. ExpertOption have a policy in which only the deposited amount may be withdrawn back to the card used to deposit. On average we noticed that card withdrawals were processed promptly (within 48 hours) however, delays can occur on the side of the card provider / bank responsible for processing, this is likely due to the fact card withdrawals are processed as refunds which can take additional time. Once the deposit amount has been withdrawn to card, users are free to withdraw profits to any other convenient method available to them.
Our suggestion would be that if speed of withdrawal is a top priority for you, then choose a method with near instant processing times, such as an e-wallet or cryptocurrencies.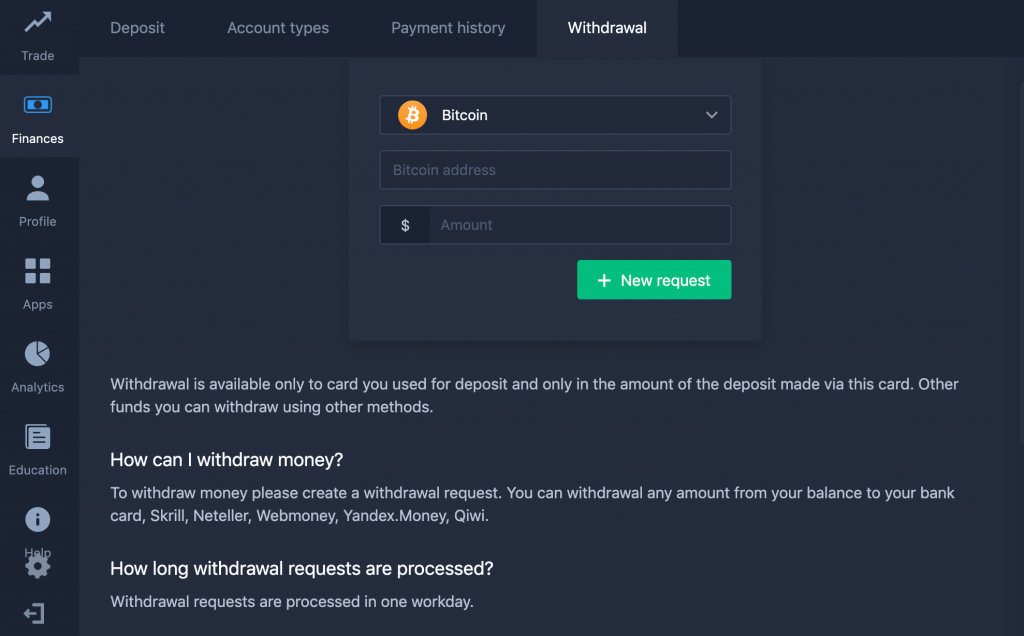 Account was blocked
For us to properly assess this complaint we must look at the root causes for an account being blocked. Most comments on this topic assert that when an account has been blocked the deposit is refunded, whilst any earnings are lost. The likely reason for this is the suspicion of fraudulent behaviour (stolen card, or payment information), which would lead the company to refund any deposit using the same payment gateway. With card this refunding process takes much longer due to the processing times of most banks. Which is the likely cause of such complaints, despite the fact the customer will eventually receive their funds. In other instances accounts have been blocked for reasons outlined in the companies terms and conditions (underage, no U.S. citizens), we would advise all current and future traders to familiarise themselves with the terms in order to avoid any potential issues down the line.
Profits are declining
This is not easily quantifiable, however we understand some traders experience a drop in payout percentages, this could be down to any number of reasons — from the current market conditions to the diversity of a traders portfolio. ExpertOption provides more than 100+ assets for trading, but what we've noticed is complaints focus on a single asset, so clearly those traders have become over reliant upon just one trading instrument. In our experience the best course of action is to switch up your trading, and move to a more profitable asset until the percentages return to an acceptable level on your desired asset.
Summary
From our analysis of the platform we can conclude that ExpertOption is a reliable, trustworthy broker. Yes, there are complaints — but all companies can suffer from the impatience of users, or those who simply do not understand the processes involved. From our first hand experience we can confirm that ExpertOption honours its commitments to traders, whilst offering them all the tools required to start earning profits. If any of you have questions about any of the above, the company provides a very good support service which can be contacted 24/7, we're confident they can help you as they did us. Ultimately the company has been in existence for more than five years, are licensed and do not exhibit any of the telltale signs of a scam — we're also highly doubtful that a scam company could register a product on the play store or app store for such a lengthy time period.
Finally, while most traders will study and take full advantage of the free $10,000 demo, others are more than happy to treat the platform as a game — a mistake they often regret, as we all know trading involves risk, we believe this reason to be a significant contributor for negative comments.
Leave a Reply
* Your email address will not be published. Required fields are marked