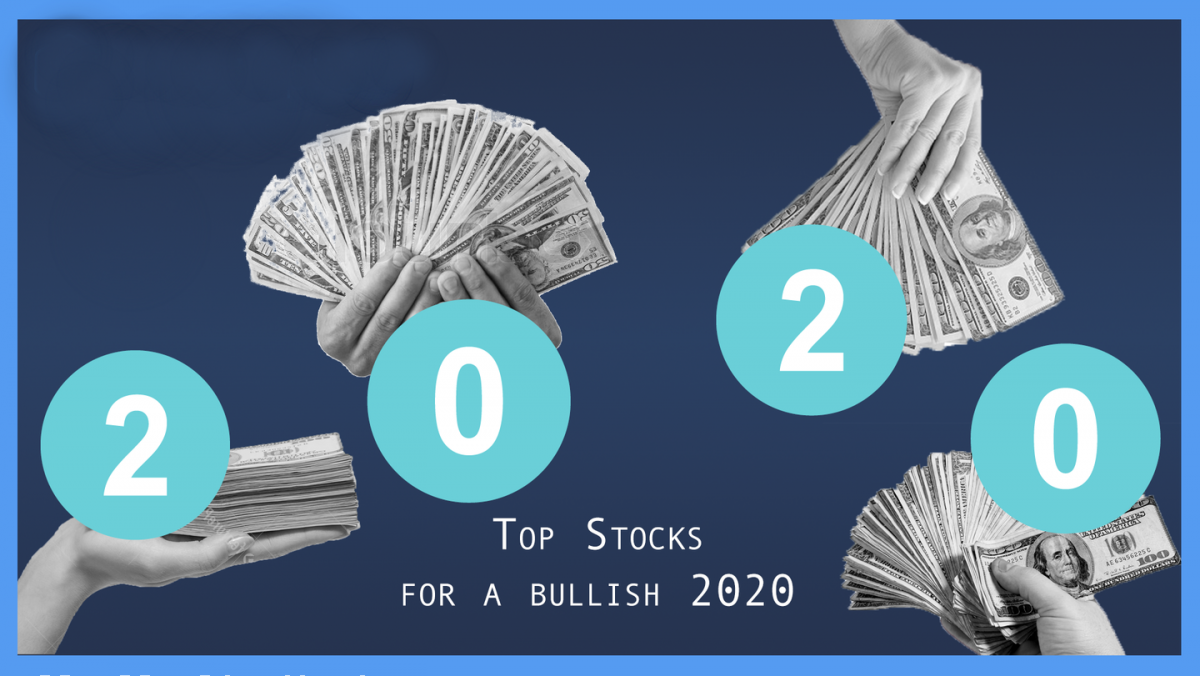 TOP STOCKS 2020
In this article we take an in-depth look at the stocks most likely to soar in 2020.
Lockheed Martin (LMT)

The aerospace and defense corporation Lockheed Martin saw shares reach an all-time high on Friday following the assassination of General Qassim Suleimani.  

In 2002 the stock rallied to a high in the lower $70s range, by the time of the 2008 financial crisis shares topped out at a high of $120. By March 2009 the price had bottomed out in the mid $50s range, before gaining traction to hit the previous high again in 2013. Throughout the decade the share price gained traction before peaking just above $350 in Q1 of 2018. 

The rest of 2018 saw losses of up to 30%, prior to a bounce back in 2019, leading to a 100% recuperation of 2018s losses and limited progress toward the $400 mark. Following the assassination of General Qassim Suleimani the breakaway gap confirmed the gains made during the 2019 rally, with sights now set on significant gains throughout 2020, which are of course dependent on any escalation of tensions in the Middle-East.

Disney (DIS)

2019 saw Disney move from strength to strength with the company's share price surging by 30% as anticipation for the Disney+ streaming service gained momentum. The company had seven of the top ten highest-grossing movies of the year, all of which passed $1 billion in global ticket sales, a feat Star Wars: The Rise of Skywalker will match in the new year.

Launched on November 12th, Disney announced that it had gained 10 million subscribers on the first day of Disney+ with shares up around 6-7% since the new service debuted. Significantly just 6 weeks after launching Disney is now in possession of a streaming business worth $108 billion, which is 69% of Netflix's enterprise value, which took 13 years to achieve. Disney has a market cap of about $260 billion, while Netflix is at about $144 billion.

Wall Street analysts are predicting 2020 will witness significant growth for the streaming service which will hit the UK in March, and recommended clients keep buying stock. Meanwhile Rosenblatt Securities analysts raised subscriber estimates for Disney+ to 25 million users by the end of the first quarter of 2020.
Tesla (TSLA)

Tesla shares have witnessed unprecedented growth over the last few years, yet despite all the evidence Wall Street continues to underestimate the company's earnings power and automotive production capabilities.

The Shanghai car plant has been the first to manufacture Tesla's outside the United States, and is the centerpiece of ambitions to boost sales in the world's biggest auto market and avoid higher import tariffs imposed on U.S. made cars. The China plant is already assembling more than 1,000 cars a week, and aims to double that rate over the next year,

This has led to Tesla overtaking Ford in terms of market cap which is currently valued at $36 billion. Tesla Stocks rose 3.9% to a record $469.06 on Tuesday, taking the company's market capitalization above $82 billion. Ford's peak was $80.8 billion in 1999, the same year Elon Musk founded a company that would later become PayPal.

Tesla's earnings per share could hit $10 a share in 2020, against a consensus estimate of around $5 a share, and $27 a share in 2024. Tesla may set 2020 auto production guidance of 500,000 when it reports fourth-quarter results on Jan. 29, although Wall Street estimates closer to 470,000.
Microsoft (MSFT)

2019 was Microsoft's best year since 2009 and many analysts are predicting the trend will continue into 2020. The veteran tech company saw its stock price rise by over 52% last year, almost double the pace of the S&P 500, which was up by just over 27%.

The biggest cause for Microsoft's current good fortunes has been its cloud computing business. By the 3rd quarter of 2019, the commercial cloud computing division had generated $11.6 billion in revenue, a 36% year-on-year increase. Additionally, Microsoft's Productivity and Business Processes unit grew by 13%, led by LinkedIn, which had revenue growth of 25%.

Microsoft's gaming business could also drive the revenues further. The 2020 holiday season will see the launch of the new Xbox Series X game console. Microsoft is banking on the new gaming system to boost sales, which have slowed due to this current generation of consoles coming towards the end of their lifecycle.

Leave a Reply
* Your email address will not be published. Required fields are marked